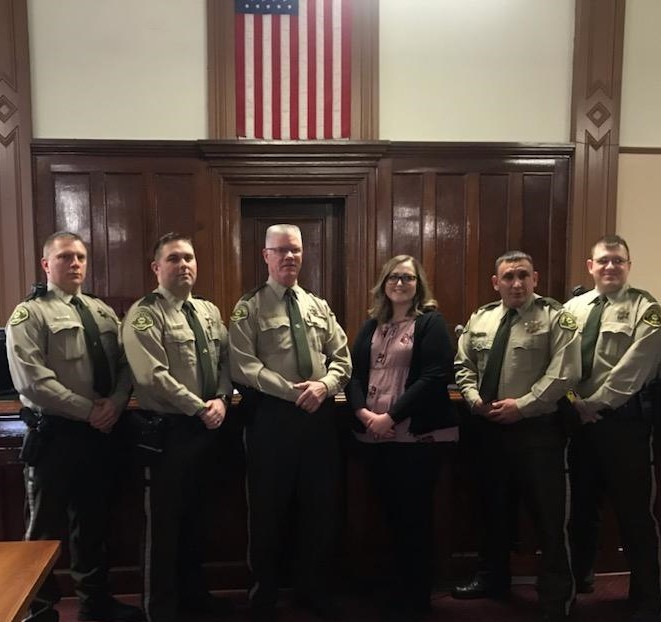 THE DAVIS COUNTY
SHERIFF'S OFFICE
MISSION STATEMENT
The Davis County Sheriff's Office will promote teamwork, internally and with other law enforcement entities. We will be consistent, proactive, and thorough law enforcement professionals. This will ensure a safer community in which to live, while maintaining fiscal responsibility to the people we serve.
Deputies
Sheriff Dave Davis
Chief Deputy Josh Sinnott
Deputy James Johnson
Deputy Robert Murry
Deputy Rob Egenberger
Deputy Quincy Collier
Secretary Holly Keller
Jailers
Jail Supervisor Sylvia Wagler
Jailer Adam Davis
Jailer Jimmy Rupe
Jailer Andy Robinson
Dispatchers
Dispatch Supervisor Kaitlin Sedore
Dispatcher Amber Altheide
Dispatcher Jenny Davison
Dispatcher Kelsey Oster
Dispatcher  Kacie Laux
Dispatcher  Justice Opperman
To stay in touch with an inmate through prepaid phone calls, video visitations from home, or text / picture messages, click this link to sign-up for a CIDNET account:
Setup Your CIDNET Account and Contact your Inmate.
If you need more assistance, Download the Friends and Family Brochure.
Si necesita ayuda, Descargue este folleto en español.
Services
Fingerprinting – $10
Reports – $4
Certified Driving Record – $10
Time to prepare $25.00 per hour with minimum 15 minutes
DVD $10.00
Flash Drive $10.00
Civil Paper Service – Costs vary; contact the Civil Deputy for details
Reports
Incident reports – $4
Accident Reports – $4
*Reports must be picked up in person or they can be faxed once payment is received
Thanks for your help! Please complete the information below to submit your anonymous tip.
(Required fields are marked by asterisk, all other information is appreciated, but voluntary.)